Hi Team,
I am trying to form EIGRP neighborship between a Cisco Router ( over sub interfaces) and two ASA in context. ASA-C1 is able to form the neighborship with both R9 and R8. However, ASA-C2 is only able to form neighborship with R8.
Can ASA-C2 also form neighborship with R9 ?
Note: ASA-C1/C2 can ping both R9 sub-interfaces.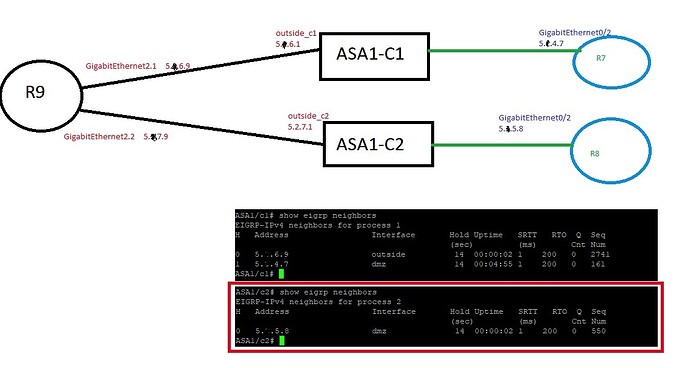 R9
!
interface GigabitEthernet2
no ip address
negotiation auto
!
interface GigabitEthernet2.1
encapsulation dot1Q 6
ip address 5.X.6.9 255.255.255.0
!
interface GigabitEthernet2.2
encapsulation dot1Q 7
ip address 5.X.7.9 255.255.255.0
!

!
router eigrp 1
network 5.X.6.0 0.0.0.255
network 5.X.7.0 0.0.0.255
redistribute static

Can you please help ?