Hello
I'm learning for CCNA R&S. I like to build a network with a L3-etherchannel.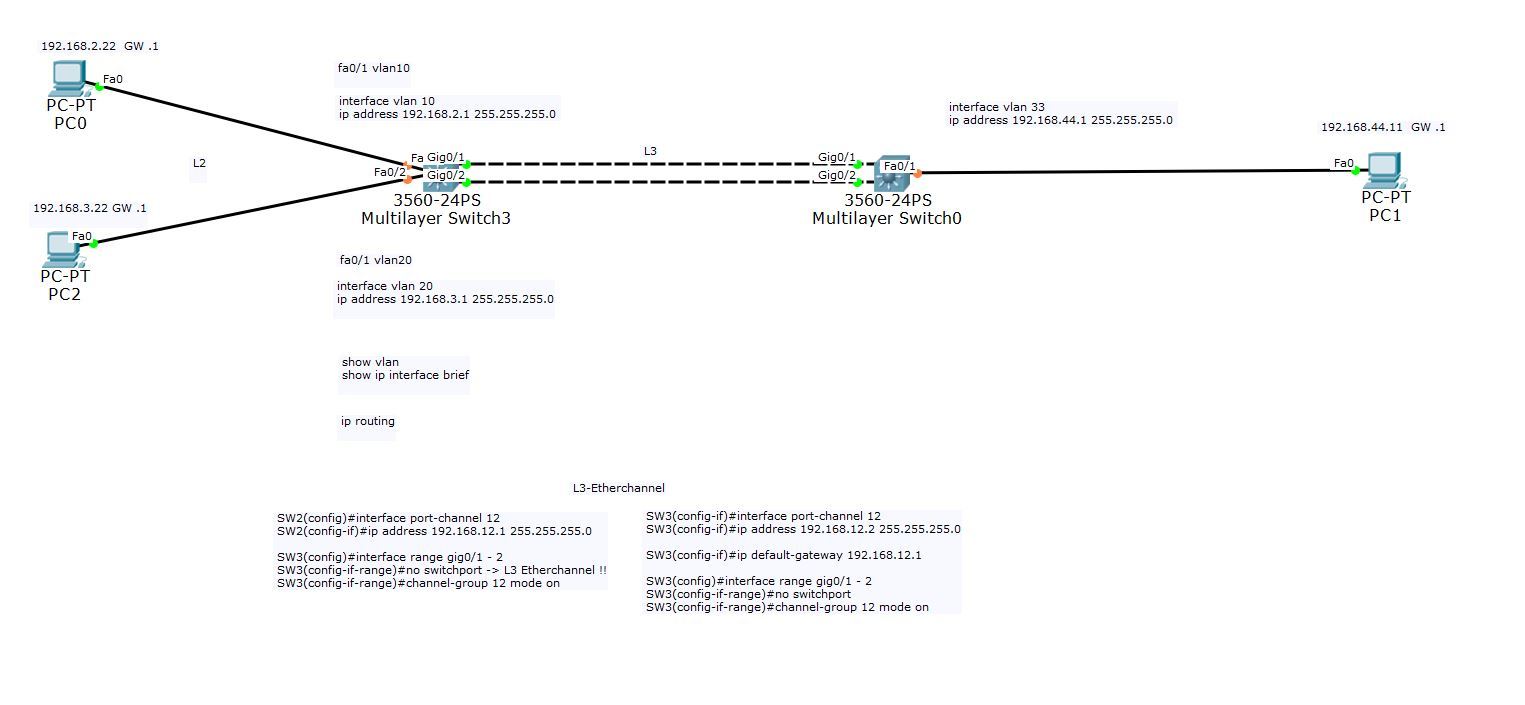 Unfortunatelly I get a routing problem. PC0 can't ping PC1 192.168.44.1 or L3-virtual Interface 192.168.12.2 -> Pinging 192.168.44.11 with 32 bytes of data: Reply from 192.168.2.1: Destination host unreachable.
I am very confused about the command ip routing.
ip route shows only the network of vlan20 and vlan10 but NOT etherchannel 12 or the static route
ip route 192.168.44.0 255.255.255.0 GigabitEthernet0/1. Why?
Switch#show ip route

Codes: C - connected, S - static, I - IGRP, R - RIP, M - mobile, B - BGP
       D - EIGRP, EX - EIGRP external, O - OSPF, IA - OSPF inter area
       N1 - OSPF NSSA external type 1, N2 - OSPF NSSA external type 2
       E1 - OSPF external type 1, E2 - OSPF external type 2, E - EGP
       i - IS-IS, L1 - IS-IS level-1, L2 - IS-IS level-2, ia - IS-IS inter area
       * - candidate default, U - per-user static route, o - ODR
       P - periodic downloaded static route
Gateway of last resort is not set
C    192.168.2.0/24 is directly connected, Vlan10
C    192.168.3.0/24 is directly connected, Vlan20

Can anybody help me?
Best regards
Felix
Switch3:
Switch#show run
Building configuration...

Current configuration : 1678 bytes
!
version 12.2
no service timestamps log datetime msec
no service timestamps debug datetime msec
no service password-encryption
!
hostname Switch
!
!
!
!
!
!
!
ip routing
!
!
!
!
!
!
!
!
!
!
!
!
no ip domain-lookup
!
!
spanning-tree mode pvst
!
!
!
!
!
!
interface Port-channel 12
 no switchport
 ip address 192.168.12.1 255.255.255.0
!
interface FastEthernet0/1
 switchport access vlan 10
 switchport mode access
!
interface FastEthernet0/2
 switchport access vlan 20
 switchport mode access
!
interface FastEthernet0/3
!
interface FastEthernet0/4
!
interface FastEthernet0/5
!
interface FastEthernet0/6
!
interface FastEthernet0/7
!
interface FastEthernet0/8
!
interface FastEthernet0/9
!
interface FastEthernet0/10
!
interface FastEthernet0/11
!
interface FastEthernet0/12
!
interface FastEthernet0/13
!
interface FastEthernet0/14
!
interface FastEthernet0/15
!
interface FastEthernet0/16
!
interface FastEthernet0/17
!
interface FastEthernet0/18
!
interface FastEthernet0/19
!
interface FastEthernet0/20
!
interface FastEthernet0/21
!
interface FastEthernet0/22
!
interface FastEthernet0/23
!
interface FastEthernet0/24
!
interface GigabitEthernet0/1
 no switchport
 no ip address
 duplex auto
 speed auto
!
interface GigabitEthernet0/2
 no switchport
 no ip address
 duplex auto
 speed auto
!
interface Vlan1
 no ip address
 shutdown
!
interface Vlan10
 mac-address 00d0.5834.5901
 ip address 192.168.2.1 255.255.255.0
!
interface Vlan20
 mac-address 00d0.5834.5902
 ip address 192.168.3.1 255.255.255.0
!
ip classless
ip route 192.168.44.0 255.255.255.0 GigabitEthernet0/1 
!
ip flow-export version 9
!
!
!
!
!
!
!
line con 0
!
line aux 0
!
line vty 0 4
 login
!
!
!
end

-
Switch# 
Switch#show run
Building configuration...

Current configuration : 1678 bytes
!
version 12.2
no service timestamps log datetime msec
no service timestamps debug datetime msec
no service password-encryption
!
hostname Switch
!
!
!
!
!
!
!
ip routing
!
!
!
!
!
!
!
!
!
!
!
!
no ip domain-lookup
!
!
spanning-tree mode pvst
!
!
!
!
!
!
interface Port-channel 12
 no switchport
 ip address 192.168.12.1 255.255.255.0
!
interface FastEthernet0/1
 switchport access vlan 10
 switchport mode access
!
interface FastEthernet0/2
 switchport access vlan 20
 switchport mode access
!
interface FastEthernet0/3
!
interface FastEthernet0/4
!
interface FastEthernet0/5
!
interface FastEthernet0/6
!
interface FastEthernet0/7
!
interface FastEthernet0/8
!
interface FastEthernet0/9
!
interface FastEthernet0/10
!
interface FastEthernet0/11
!
interface FastEthernet0/12
!
interface FastEthernet0/13
!
interface FastEthernet0/14
!
interface FastEthernet0/15
!
interface FastEthernet0/16
!
interface FastEthernet0/17
!
interface FastEthernet0/18
!
interface FastEthernet0/19
!
interface FastEthernet0/20
!
interface FastEthernet0/21
!
interface FastEthernet0/22
!
interface FastEthernet0/23
!
interface FastEthernet0/24
!
interface GigabitEthernet0/1
 no switchport
 no ip address
 duplex auto
 speed auto
!
interface GigabitEthernet0/2
 no switchport
 no ip address
 duplex auto
 speed auto
!
interface Vlan1
 no ip address
 shutdown
!
interface Vlan10
 mac-address 00d0.5834.5901
 ip address 192.168.2.1 255.255.255.0
!
interface Vlan20
 mac-address 00d0.5834.5902
 ip address 192.168.3.1 255.255.255.0
!
ip classless
ip route 192.168.44.0 255.255.255.0 GigabitEthernet0/1 
!
ip flow-export version 9
!
!
!
!
!
!
!
line con 0
!
line aux 0
!
line vty 0 4
 login
!
!
!
end