Thanks for explanation …I see just typo error R1 ( instead of R2) while configuring rp-candidate
simply outstanding
Thanks
Hi Rene,
I have a doubt. Here R4 also gets BSR messages from BSR. But sparse mode is enabled on all routers. Then how R4 gets BSR message from R3?
Or is that what hop-by-hop basis means? In case of BSR selection, messages will be send to all the routers?
Hello Siji
Sparse mode allows all multicast traffic to first go to the RP and then be sent to the clients that requested it. However, with BSR, we don't yet have an RP, so sparse mode is not yet enabled. Secondly, the specific BSR message is sent with a TTL of 1 so it is already limited in scope to only next hop routers. That's what hop-by-hop refers to. Each router then regenerates the BSR out of all PIM enabled interfaces.
I hope this has been helpful!
Laz
Thanks for the info. Got it clear.
The first line is R2 and the remaining lines are R1.
Should all be R2
R2(config)#interface Loopback 0
R1(config-if)#ip address 2.2.2.2 255.255.255.255
R1(config-if)#ip pim sparse-mode
R1(config)#router ospf 1
R1(config-router)#network 2.2.2.2 0.0.0.0 area 0

Now we can use the BSR command:
R1(config)#ip pim bsr-candidate loopback 0 ?
Hash Mask length for RP selection
Thank you Bell, I just fixed this.
Rene
Hey ReneMolenaar,
Just a correction on this post. But with BSR, the RP priority, lowest is preferred. I labbed it up, got confused with what I was seeing and then confirmed it that lowest priority is preferred and wins the RP election.
Regards - Tony Ellis
Hi Tony Ellis,
I just made some changes, you are right this is confusing. In RFC5059 they state it like this:
BSR Priority
Contains the BSR priority value of the included BSR. This field
is considered as a high-order byte when comparing BSR addresses.
BSRs should by default set this field to 64. Note that for
historical reasons, the highest BSR priority is 255 (the higher
the better), whereas the highest RP Priority (see below) is 0
(the lower the better).
They talk about highest priority for BSR and RP selection, but for BSR highest priority means the highest value (255) and for RP, it means lowest value (0).
Rene
Hi Rene
I have a confusion. You mentioned in your post "We have two RPs with the same priority, both want to become the RP for the entire 239.0.0.0/8 multicast range."
Q1. If the group is 239.1.1.1 then why would they want to become RP for entire 239.0.0.0/8, wouldn't it be that they want to become RP for 239.1.1.1?
Q2. How will the RP know that they have to be RP for a particular group, when we mention ip pim rp-candidate we never specify any group there ?
Hello Vikrant
Concerning question 1, the statement "both want to become the RP for the entire multicast range", essentially means that when you have two routers that have the same priority, initially, each one wants to be the RP for all of the multicast ranges that have been configured. In other words, for any and every group, each router wants to be the RP.
Concerning question 2, the command ip pim rp-candidate simply enables the router to become a candidate, that is, to become eligible to become an RP. It does not map particular multicast ranges to a particular RP. All routers with this command participate in the hash function. It is the hash function that is used to map the specific multicast group addresses to particular RPs.
I hope this has been helpful!
Laz
Hello every one
Q1: How can apply the PIM sparse mode with BSR in this Scenario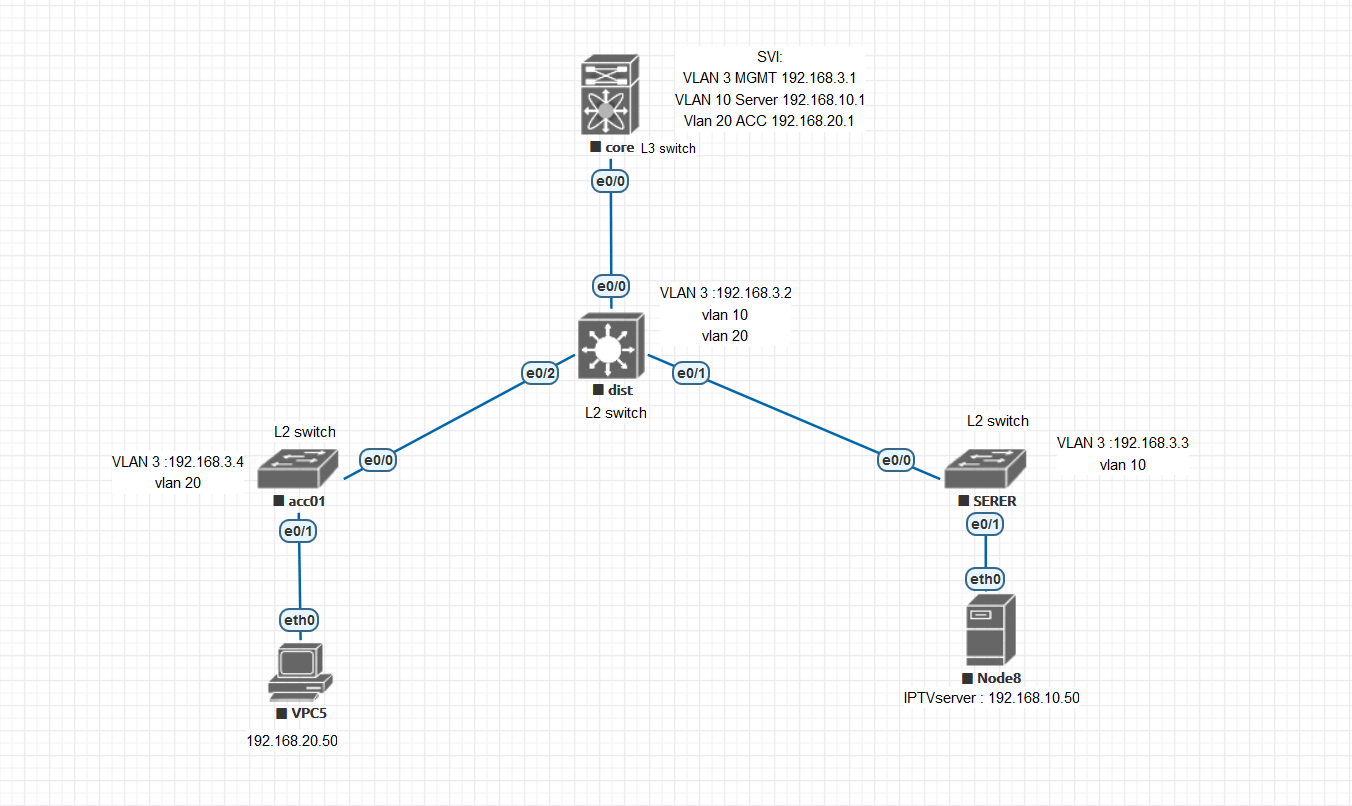 Q2: I Know that safe IP address for multicast group that I can use it from 239.0.0.0 -239.255.255.255
but I want to ask if multicast address its depend on streaming app or server that I use or not ?
Hello Ammar
I suggest you take a look at this lesson and see an example how BSR with PIM sparse mode is configured on a topology.

Once you review, let us know if you have more specific questions.
As for your section question, the multicast IP addresses that are used in each case do depend on the implementation of the service that is being provided. Some vendors use specific addresses within the range, others may use random addresses. But there are some multicast addresses that are reserved and should never be used.
I hope this has been helpful!
Laz
I read it and I understand it also, but how I joined tv receiver to the multicast group because in the lesson was used router as host
Hello Ammar
Any host (either multicast source or receiver) that is connected to a network that is required to function using multicast should simply be connected to any network of any of the multicast routers found within the topology. It is true that in the lessons, Rene often uses routers as hosts, but for your purposes, you can simply replace the router with your host in your topology.
I hope this has been helpful!
Laz
Hi Rene,
can we configure more than one mapping agent Router in Auto-RP in same network for redundancy and high availability reasons ? and if yes how the election and selection for the mapping agent will be? is it same as BSR idea?
Hello Ziad
You can configure redundancy using Auto-RP. You simply have to have multiple candidate RPs and multiple mapping agents. At any given time, only one RP address is active, either per multicast group to share the load, or for all groups. If the active RP fails, it may take up to three minutes for the other candidate RP to take over. But don't forget to include multiple mapping agents, because even if you have more than one candidate, if the mapping agent fails, it is a single point of failure and you don't achieve the redundancy you desire.
The same logic can be applied to BSR, with its candidate BSRs and candidate RPs.
I hope this has been helpful!
Laz
Hello Gowthamraj
Yes, it should be pim and not bim, thanks for pointing that out! I'll let Rene know to fix that.
Laz