In OSPF the router is considered to be an ABR only if it has at less one link in the backbone area (area 0) and other link in non-backbone area, but what if we have situation where the router have two links where they are both in different non-backbone areas ?!
In this case this router must have link in area 0 and to achieve this virtual link was introduced which is an ip unnumbered interface that is always in area 0, this virtual link is established between an ABR and this router.
Now the interesting part come which is OSPF transit capability which is the main purpose of this post and to explain this feature take a look at the picture and try to find which router is ABR and which one is not :-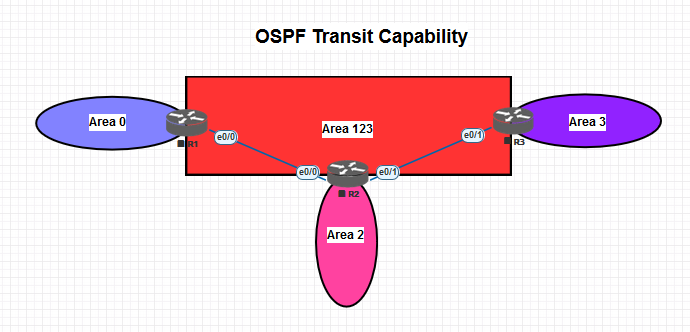 This is very simple to find out by just applying the rule above :-
R1 is ABR
R2 is not
R3 is not
Now I know it's a BAD design but the designers of OSPF people smarter than you and me think of all possible possibilities and how to deal with each one.
Back to the picture, to make R2 and R3 an ABR we need to established virtual link between :-
R1 <-----> R2
R1 <-----> R3
This solution make area 123 a transit area which is have this OSPF transit capability feature, now what is this capability feature, let find what cisco say about it :-
"The OSPF Area Transit Capability feature is enabled by default. RFC 2328 defines OSPF area transit capability as the ability of the area to carry data traffic that neither originates nor terminates in the area itself. This capability enables the OSPF ABR to discover shorter paths through the transit area and forward traffic along those paths rather than using the virtual link or path, which are not as optimal"
This sentence is very very vague and this post is about to explain it in very fashion way, I know the only think you understand is that it is enabled by default


Now the only way to examine this is to trace the traffic from area 2 to area 3 one time when this feature is enabled and other one when it's disabled :-
1- when it's enable the traffic will go direct from R2 to R3.
2- when it's disabled the traffic will go from R2 to R1 via virtual link then from R1 to R3 via virtual link but since the path from R1 to R3 is via R2 the actual traffic will go to R2, now R2 check the destination and find it's reachable via virtual link to R1 so it will send it back to R1, "ladies and gentlemen we have a loop".
Now this ring the bell in your head and at this moment I believe that you are clearly understand what cisco mean in there sentence above.
To find out this by yourself you can download the EVE-LAB from this link :-
https://drive.google.com/file/d/1pEapMAMsWx6kXJLuL1uzA0EB7RpYKpGr/view
Note :-
If you test this feature issue this command "no capability transit" under router OSPF configuration of R2 or R3 to disable OSPF transit capability.
Hussein Sameer