Hello all,
I have a project to implement small QoS scenario into my network backbone.
This scenario would mainly consists to deprioritize an identified traffic on ingress interface on edge router.
By deprioritize, I mean that, in case of congestion, all this identified traffic, can (and have to) be discard instead of all other traffic
I checked the possibility to class and remark this traffic with specific DSCP value but that implies to remark all others traffic with another higher DSCP value.
Recently, I noticed a class of service called "Scavenger" (DSCP CS1) allowing, in my understanding, traffic remarked with this value to be assign the lowest configurable queuing service. (less than best-effort services)
Is anyone already used this kind of CoS ?
More generally, which best QoS implementation could be achieve my use case to deprioritize a type of traffic only ?
Here is a schema illustrating the backbone and, indicated by red arrows, where come from the traffic to deprioritize :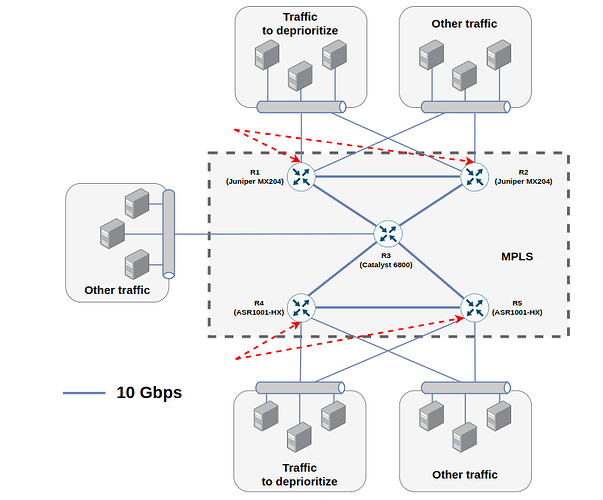 Thanks to you,
Trif'