I have a difficult lab which I have to do where there are three routers each TOP , RIGHT and LEFT having an internal BGP with AS 300 and on the one side OSPF and the other side EIGRP and both have loopbacks etc where routes are disterbuted between OSPF and EIGRP but in the mean time I am running an IPV6 tunnel from the TOP router into another router located in AS 500 which is not an IBGP. The quesion is that all the routes coming to the AS 300 and going from AS 300 should be done through the Router RIGHT , I want to use AS Path or Local Pref with help of route-maps but does not know exactly how I do it and where to put them ?
To be mentioned that the Routes between LEFT and RIGHT should be used as a backup link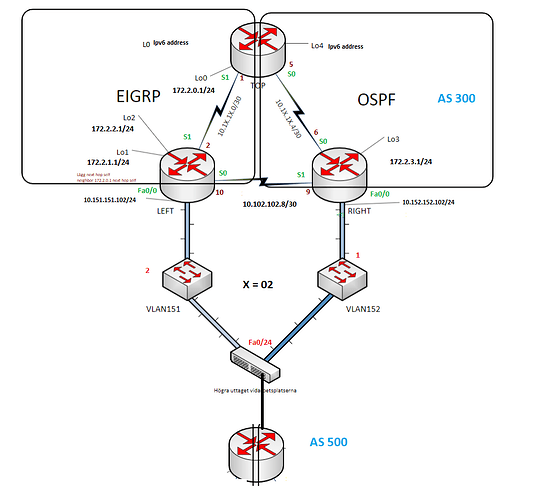 with the help of static routes. The 172.2.0.0 network should be summerized in BGP LEFT and RIGHT.
In the mean time is it so that in the internal BGP we should use update source loopback but not in EBGP ? And what does the network command do in this case ?
Waiting for your kind responce,