This topic is to discuss the following lesson:
Hello René,
Could you please share these all SD-WAN images for eve-ng to me?
Hello Nyi Nyi
In order to obtain the images, you need a Cisco Connection Online (CCO) account, also simply called a Cisco account. This is an account given to Cisco customers. Unfortunately, we are not able to share these images because they are protected by copyright.
Laz
Hello everyone,
I would like to know if I can build the same lab using VMware Workstation Pro instead of VMware ESxi, and if is possible which would be the steps in VMware Workstation Pro.
Thanks !!
Hi Jose,
Sure, that's no problem at all. EVE-NG also has a video that explains how to install their ISO on VMWare Workstation: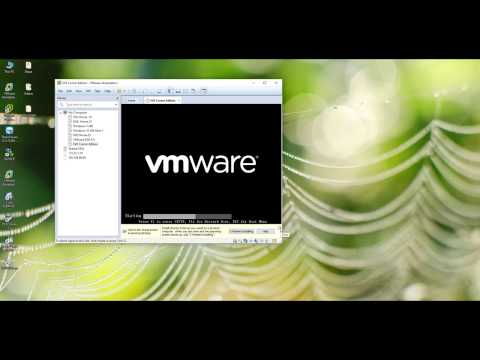 Rene
Hi Rene,
My eve-ng virtual machine is up and running in VMware Workstation, thanks for the help !!
Hello Jose
Great to hear!! Happy emulating! If you need anything further let us know!
Laz
Under "Click on Add port group and create them:" the image is missing
Hello Saravanan
Thanks for pointing that out, I will let Rene know.
Laz
Sorry, i dont get the lab part,
From vSwitch(ESXI) > Real switch, how many physical interface connected?
is it 1? if 1 means its trunk port carrying vlan 90-94? am I correct?
If not please correct me. How to setup the lab. Thanks in advance.
Hope can begin this new year with this topic and someone can help. I can't proceed on my lab.
Hello Saravanan
There are four port groups that are created in the lab. The first port group (LAB) is the one that connects to eth0 of the virtual machine. That is not shown in the diagram. That is for internal communication between the EVE-NG virtual machine and the VMWare ESXi server, so that you can obtain an SSH connection and continue in the configuration.
The rest of the port groups (LAB1, LAB2, LAB3) are used to connect to different cloud networks. In the lab, these are simulated within the EVE-NG virtual machine. Now, what is configured on the link between the vSwitch and SW1? Well, that is not actually described within the lab, and you can configure that however you choose, depending on what you need in your topology. If you do make such a connection, you can choose to make that link a trunk link so that you can have access to all of your WAN connections from that switch, however, this is not mandatory.
I hope this has been helpful!
Laz
Thank you for the clarification. I will proceed.
Dears Sir Laz, Team
I followed your instruction and rpeat many times to install this lab but faced issue when turning on SD-WAN nodes, they just startup for a while then turn off, CML offcial licensed images isov, iosvl2 with qcow2 extension facing same issue in eve-ng hosted on vmware ESXi! attached are some screenshoot related to file format,naming and software interfaces. Thanks for your usual support

Hi Laz, Rene,
I have a question for you concerning tunnels between TLOC colors in an EVE-NG lab.
Let me start by saying that I have followed your lessons for setting up the controllers and onboarding edge devices. Thank you for these very insightful and detailed lessons

I now have a working SD-WAN fabric (version 20.2.3). The WAN edges form tunnels between each other on the same TLOC color, however at the moment not between TLOC colors. I am not using the restrict option.
My setup is similar to the diagram in: https://networklessons.com/cisco/cisco-sd-wan/cisco-sd-wan-lab-options →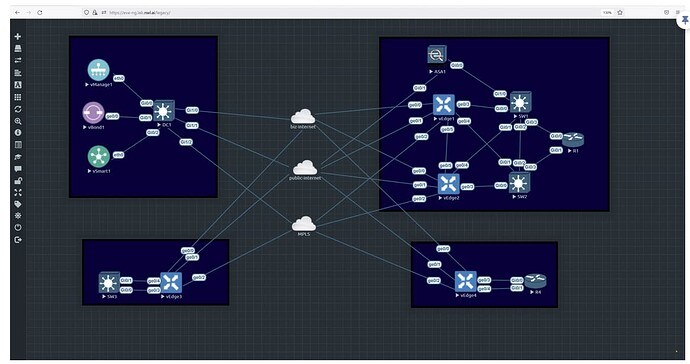 I have three different colors: biz-internet, pub-internet and mpls. These clouds are EVE-NG bridge networks. The default gateway for each cloud is a routed interface on switch DC1. All edge devices can ping each other on all interfaces.
Have you encountered this issue in an EVE-NG lab? Do I need to setup my WAN clouds differently? Maybe use routers instead of Linux bridges?
Kind regards,
Jurrian
----- SOLVED ------
Hi Guys,
I went through all configs again and found that on the WAN edges I had configured static routes only towards the subnet of the controllers. After correcting this and adding default static routes the bfd sessions between TLOC colors now work.
Kind regards,
Jurrian
Hello Jurrian
Thanks for updating your post with your solution! It's always helpful to follow the experience of others in specific scenarios, and it helps to enrich the content of the forum as well! Thanks for your contribution!
Laz
Hello Team
Is there any update on this enquiry ?
I haven't seen this before. I did some research and there seem to be some different reasons why this happens.
First of all, I would check the eve-ng logs. They might tell you why it shuts nodes. Take a look at page 94 of the cookbook to see how to check the system log:
Does this always happen? Even if you only run a single node? It could be related to hardware virtualization:
Here's an example of how to enable this for the VM: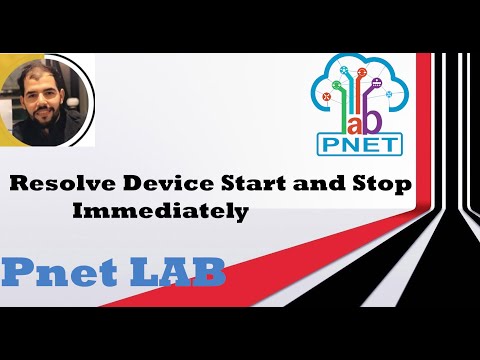 Rene
Hello Master,
Thanks for your time looking to our questions, for anyone experencing same issue, it solved after using eve-ng .ovf file instead of .ios, i hope you have article on practicing sd wan lab using CML as its official cisco simulator platform. it will be more helpfull. Thanks agian
Hello Nahro
Unfortunately, Cisco's CML doesn't have any built-in support for SD-WAN yet. However, it is possible to run KVM images on CML, but according to Rene's lesson below, this is very difficult to do and is probably not worth the hassle.
In the above link, Rene goes over the various options of setting up a lab environment in which you can practice with SD-WAN. The options include CML, VMWare ESX, GNS3, and EVE-NG. He chose to implement EVE-NG because currently, it is the easiest to use.
Maybe in the future, Cisco will add a native SD-WAN lab environment in CML that will make it easier, but until then, it looks like EVE-NG is the way to go.
I hope this has been helpful!
Laz